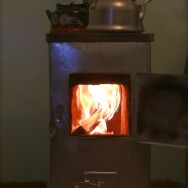 We builded a new small heater that we think will be very popular. This stove combines direct heat and stored heat. It is a fast and simple build, but it performes really well. This stove responds to many of the neads expressed by the people here. Learning for Winiarskis design principles I figured that a pushing the fire in a narow gap under the coock surface should result in a more effective heat transfer. (Sketchups are on the way) This stove is amazing to coock on because on one side you have frying hot temperatures and on the other side it is suitable for slow boiling and simmering food. The design makes the coocktop a more effective heat-exchanger than it normally is. I would sum up this stove like this.
Small mass (300 kg) with quick response (sunny days in the winter can get quite warm and heating a big mass is not always desiered) It can be put on a wood floor without reinforcements.
Instant heat.  It can throw off a signifficant amount of heat directly from the coocktopp. This heat comes instantly after the fire is going.
Effecient for cooking. The coocktop is ready in two minutes! It boiled 3 liters of water in 12 minutes.
Burnchamber suitable for baking one bread after burn. Grills can be done on the coals to.
Clean-effecient burn with secondary air provided in the back.
Movable ( it can be carried by four men or slided on the floor to be put in a corner of the room for the summer)
Cheap! This stove costs 35 azn  in materials, that is less than 50 $. It can be builded in one day!
Chimney temperature is low, but increases significantly if you burn it more than 1-2 hours. Mabe it can be completed with a bench to extract more heat.
Works with the standard 4″ chimney that they use here.
It can be suited with a small water-heatexchanger.
The family that are testing it lives in a mountain village where the winter is hard. They are reporting that it so far works great, heats much better than their old stove, uses significantly less wood, burns cleaner. It hardly neads any atention to continue burning. It is much better to cook on. It dosent nead to be cleaned often ( the old stove neaded chimeny sweep every month!) The draft is much better ,the door can be opened for fire gazing (and provide light when the electric is gone) It retains the heat pretty much through the night and leave some glowing coals to the morning so it is easy to light it up again. It makes the room dryer as it is provided with a more stable heat-source   It will last longer before they nead to change it. We would say 10 years with minor maintainance.