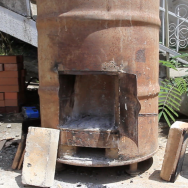 I got the idea of this stove construction reading a book on how they used to heat medival castels. Offcourse this is a radical downscale of the concept, but the function is somewhat the same. I really like the simplisity of this construction. And I like to think that the "organic" unnsymetrical channels formed by the rocks somehow works better together with the natural flow of gases than channels and chambers… This is neither a bell nor a channel system. It becomes something in between. I know that maintaining a good surfface/weight ratio is important for a good working stove. And I cant think of a more interesting way to obtain that.
I rebuilded the firebox four times, and there is some critical things to consider. The airgap in the back of the burn chamber should be thin enough to shoot the air as a laminar flow along the back edge of the chamber for secondary burn of the gases up in the tube. (Thanks to both Alex Chernov and Ekonomka for learning more about that) Thats why it doesnt work as well having the exit at the front or middle position over the chamber. This setup showed in the movie works ok, but I think it will work better if I make the chamber deaper and have the wood laying dow keaping the airgap in the back clear through the whole burn. The burn dosent nead a lot of air to maintain combustion. Ratio 1/3 or 1/4  compared to firebox exit seams ok including gaps around door.
Cleaning it is also an issue. The best way seams to be knocking on the barrel now and then and vacuming at the flue exit. But probably once a year it is good to take out the rocks and clean it throughly. That means that constructing it with a removeable lid seams  necessary.
Compared to the rocket mass heater we here have a stove that dosent nead to be constructed permanently in a house. And it dosent nead a special foundation. It will work with a standard 4″ flue that they use here. It burns down the wood in one go with minimal maintainance of the fire. It burns almost as clean as the RMH? It gives a very hot cooking surface.Its total cost for a selfbuilder is about 20$!
On the down side it "only" retains heat for about 8 hours after the burn. Other negatives??
Some questions to be answered. Will it be sufficient to heat a livingroom space throught the winter in this climate? Will it give the fuel savings that we are hoping for?
I will have this construction tested through winter to heat a friends livingroom, and come back with some reports on its performance.
If you ever do this construction yourself, I would love to hear about your experience with it.
Read our Blog!