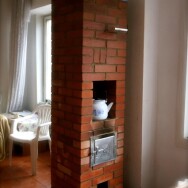 This heater is a small masonry heater made after Kuznetsovs drawings that can be found here: OVIK 25
I like this heater, because it is small and cheap to build and heats one normal sized uninsulated room in Azerbaijan. And it has a quite effective small cooktop that also can have a door for doing small bakeries.
If floor structures are up to EU-standards it can go on top of a wooden floor. (remember to use some type of insulative bricks at the bottom.) In this case we had to strengthen the structure, because it was a weeker structure.
More details
(1 azn is about 1 Euro) Door 5 azn Bricks 24 azn Other metall parts 3 azn Chimney 15 azn Decorative tiles 6 azn Wool 1 manat Sand 2 manat Total 56 azn.  This heater has an estemated maximum heat output of 1800 w pr hour with two fires pr day. Aprox 12kg of wood.  That should be enough to heat 25 square meters of uninsulated brick house with an inside-outside temperature difference up to 25 degrees celsius.
The black spots above the door are because of the draft was a little insuficient in the begining when it was wet. When the stove dried up it was just ok. But it is conected to a 1,5 m 10cm diameter horisontal uninsulated flue, then a 90 degree elbow that brings it up just 1,5 meters.  From the bottom to the top of the chimney it is less than three meters. So it is quite impressive that it is burning nicely now !. We are now planing for a better chimney, to have cold start upp being easyer.
The owner agreed to take notes on its performance, so we will have some data on how it works in reality after the winter.