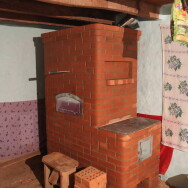 Hi just wanted to update you on our first masonry stove. It came out pretty nice. The longer up we came, the nicer mix we got with the mortar made from local mud. At the end it was actually better then the mortar I worked with in Sweden, probably because of a higher clay content.
We used:
about 570 red bricks 100$
10 sacks of mud !! Free 0$
3 sacks of sand     9$
50 used firebricks 30$
2 local made doors 10$
1 local made cook-top and damper 30$
Chimney: 50$
It took us 10 days to finish the whole process with means a local could build it for around 200$ In sum that makes a local business  able to install a heater like this for about 430$ . Thats pretty impressive when you think of that this heater might last a lifetime !
I will soon publish drawings and more pictures. But first I want to test it more. If you are trying to build from my drawings I don't take any responsibility for the outcome, and I strongly recommend to do a workshop before you try it.